Receive My eBook, "God and Science Bridged as One"
When You Become a Yearly Member of Linda Gale on Creation
Special Member's Price: $120 $99 / 1-Year [Manual Renewal]
(Save $21 with Member Discount*)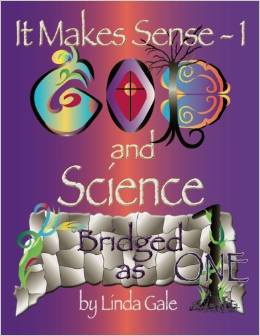 Previously Sold on Amazon for $29.99 —
It's Free for All Yearly Pre-Paid Members!
Includes, 150 pages of insight into God's Fingerprint in all Creation.
Easy to read on any computer or mobile device in Adobe PDF Format.
Introduction
God and Science Bridged as One is my first book in the series for Linda Gale on Creation. It was written to take the reader into the depths of our existence . . . to the very roots of Creation in the human heart, lungs, optic tract, DNA/RNA, neurotransmitters, womb, etc. A more meaningful scope of the body's symbolic configurations and how they are matched to the structures of the ocean floors, elements relating to the equator, earth's elliptical plane, Sun, moon, galaxies, etc. is truly eye opening. This book and its many disclosures are by far the most comprehensive coverage of Creation backed by science. A universal Masterful Code serves as a life map to people around the world and their search for colossal meaning – understanding the complexities of the beautiful Tapestry of Life – molded and woven by God's hands.
The enlightening journey is for the young, old, the seeker, believer, non-believer, townsfolk, city dwellers, villagers, farmers, intellectuals, scholars, teachers, preachers, or anyone who is searching for meaning, and perhaps, visual proof of their roots. Tangible evidence of who we are and the purpose of existence is revealed in the videos on my website, www.LindaGaleOnCreation.com. I hope you enjoy reading my book as much as I did living the quest, and seeing the absolute Truth of the Seeds of Creation.
My Free eBook, "God and Science Bridged as One"
is Only Available to Individuals Who Has Purchased a 1-Year Pre-Paid Membership.
LOGIN
or
Click Here to Join Us Now